During December the 1st at 2017, I decided to take a trip from Jakarta to Bandung using my bicyle. Because this is a long weekend, so this is the perfect time to test my mental and strength for a long distance-climbing trip.
This trip will be a relaxing journey because even if I can do 150km for a day with my bicycle, the elevation in Purwakarta is not a joke. Especially when you are alone and never actually duing it before.
I woke up late in the morning, so I rushed to Kalimalang road. Stop for awhile to take a photo at sidewalk near Metropolitan Mall Bekasi.
I thought that I might need a side mirror, because too many motor vehicle will passing me. So I need to know the position of all vehicles behind me without the need to turn my head to the back side.
It was near Rodalink (bicycle shop), so I go there.
But the shop will open at 9 AM. I don't want to wait anymore because at this hour, I should aready at Cikarang area, and now I'm still stuck at Bekasi.
Then I continue my trip, at around 9 AM, I had to stop to pick some "Pokemon" Berry in front of PT. Gunung Rajakasi gate area.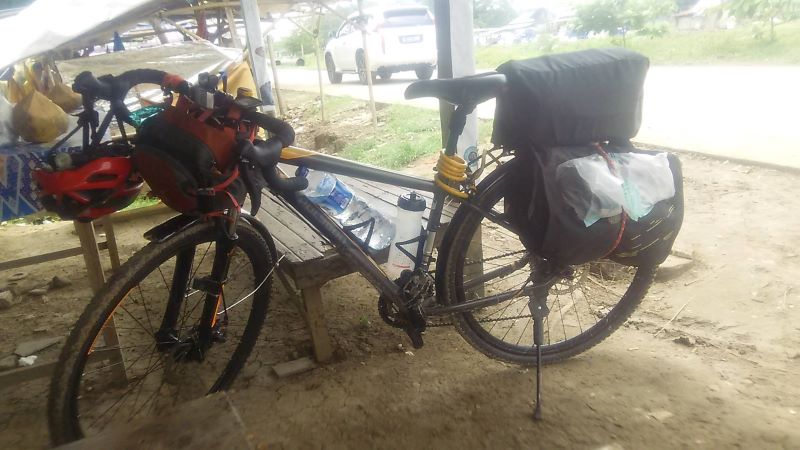 At 12 or so, I saw a familiar building. A building that I've ever seen in a Jakarta-Bandung Touring blog before.
Yes, Al Azhar Memorial Garden.
It mean, I'm in the right track.
Because this is my first intercity trip using my bicycle, I heavily really on my Google Map. The biggest problem whenever I asks people around, they always said "Just follow along the line of Kalimalang River".
Then, in every bridges that connecting the street from my side to the other side of the river, Google always notify me with "Turn Right!" (I was on the left side of the river).
It annoy me because I know if I don't have to follow that direction because my road still straight with no junction at all.
"Turn Right !"
No.
"Turn Right !"
NO!
"Turn Right !"
No, damn it!
"Turn Right !"
For God sake, woman…!"
At 5 PM, just before arriving at Purwakarta Dam, my wheel felt more heavy that usual. It turn out, it almost get flat.
I think, my tire got a minor puncture/eak in the inner tube.
Well, I can see why. The street along Kalimalang river does not always covered by asphalt, mostly Gravel with a lot of pot holes, big pot holes.
In one time, when I'm crossing a Puddle that I thought it was a shallow one, my wheels are sinking half way to the hub. Woah…!
Considering how late I was already, and I find no interesting photo spots, I decided to just sprint my way thorugh the Gravel road like I'm on a Cyclocross Bike..
Eventually,after dealing with tons of muds, puddles, and other hindering stuff, I arrive at Purwakarta Dam. And my rear tire got flat.
I found a bike workshop and patch my inner tube.
But then, after I put back my inner tube to the whel, it get blown up after some light pumping. BOOM!
WTF ?!
The inner tube is exploding?!
Over pressure? No! Because the current air pressure wasn't as high as before.
Oh well, I don't want to put this in my mind too much. I just took my spare inner tube and put it in.
Due to this mater, I decided not to do some crazy shit during my trip because this is my last spare tube. I need to be careful from now on.
I keep following the straight road until I met with Y split. As always I ask the people around there, and they also said the same thing, "Just follow the main road."
Oh well, let's go then…
Around 4 PM, I have arrived at a very familiar gas station.
It turn out, this is the location when me and my workmates is waiting a friend during our company trip.
After this gas station, the real challange is there.
But since this is already 6 PM, and mountain range road mostly got no road light, I decided to just stay at the nearest inn and continue my trip at the next early morning.
End of Day 1